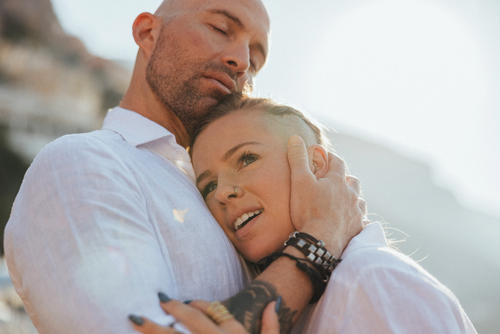 You will hear from Susannah and Andre, experienced life, sex and relationship coaches with 18 years of combined open relationship expertise. 

Workshop 1: Activating Sacred Intimacy (Friday @ 3:00pm)
Tent Location: Dance Tent 
 This special talk will be led by Susannah!
What is Sexual Energy, really? 

Overview of the Energetic Channel and what sexual energy "is", 

Using sexual energy to activate & cleanse your Energetic Channel

Re-calibrating to Sacred Intimacy 

Expanding our definition of sex & intimacy, 

Creating a safe, boundaried & trauma informed environment to experience self-intimacy, 

Using healed sexual energy to strengthen intimacy & create the opportunity for tantric merging

Activating Sacred Intimacy with Others 

Calling in an intimate King, Queen, partner. 

Who/what are you seeking?

 

Speaking your needs, wants, desires, fears, & navigating conflict, 

Ritual for opening into Sacred Intimacy
Workshop 2: How to Build the Sex Life You Dreamed Of (Friday @ 4:00pm)
Tent Location: Love Tent
In this workshhop, we will discuss what sex really means, dispel the myths and fairytales surrounding sexual intimacy, and give you actionable exercises and steps during a fun, interactive experience. From tools to asking for what you want in pleasure to BDSM dynamics, come learn how to up-level your erotic power!
Workshop 3: "How to Navigate Consensual Non-Monogamy in a Healthy and Embodied Way" (Sunday @ 12:00pm)
Tent Location: Play Tent
They will be sharing tips & tricks for beginners to veterans in open relating. This class is for those in monogamous relationships as well. Get ready to take your relationship to new heights!
Seduction Through Sensation Play
This special talk will be led by Andre!
Whether you're exploring BDSM for the first time or have extensive experience, this workshop goes deeper into the BDSM realm by focusing on elements of Sensation Play!
Get ready to learn more about your own pleasure and how to please others through an interactive, hands-on experience. This is an all-inclusive workshop where you will have access to tools and toys expanding your knowledge about how humans connect sensation and sexuality.
Most importantly, safety and consent are at the core of BDSM, so we will also practice how to structure a thorough scene preparation conversation. Come enjoy this sensational workshop!
Andre Lazarus is a Certified Intimacy, Sex and Relationship Guide, trained Surrogate Partner, as well as Sacred Intimate with 9+ years of experience helping individuals and couples discover their intimate and erotic power. As a multisexual being experienced in Consensual Non-Monogamous dynamics, Andre's unique approach to sexuality, sensuality and the bond people share make him a thought leader and knowledgeable practitioner.
Andre specializes in erotic desire, sexless relationships, sexual trauma healing, erectile concerns, rapid ejaculation, BDSM, consensual non-monogamy, and more. Learn more at www.coming-closer.com and comingcloserwithandre on Instagram.
♥ ♥ ♥
After serving as a Marine Corps Officer through two combat tours in Afghanistan, Susannah experienced a profound spiritual awakening to find her flow as an Embodied Consciousness Guide. She co-founded House of Embodied Metamorphosis, a 508(c)1a organization that offers healing medicine retreats and transformative coaching programs.
With her partner André Lazarus, she co-created Open to More, a course on designing alternative relationships through Sacred Intimacy. Through this work, she guides others in Sacred Ceremony to align their spiritual and human selves, so they may remember their Purpose and find deep connection with their Self and Others.