corporate parntership OPPORTUNITIES
ABOUT THE EVENT
Bliss Boogie is an annual educational festival that celebrates creativity, community, the human interconnected experience, sexuality, and the joy of music, dance and a celebration of being. Bliss Boogie will bring together 600-700 creatives for a 3-day experience of live music, interactive creative installations, educational workshops, and unforgettable experiences.
We are excited to offer your organization an opportunity to become a vital part of this extraordinary event through our monetary and in-kind partnership opportunities. Bliss Boogie, Inc. is a for profit entity aimed at helping people with their personal growth.
WHY PARTNER WITH US?
Partnering with Bliss Boogie is a strategic choice for brands looking to unlock diverse opportunities. Align your brand with our vibrant festival to connect with socially conscious individuals. Our customizable sponsorship packages offer maximum visibility and engagement through on-site activations and extensive marketing exposure. By partnering with us, you contribute to a beloved event, strengthen brand loyalty, and demonstrate your commitment to positivity and creativity, leaving a lasting impact on both your brand and the Bliss Boogie community.
ABOUT THE BLISS BOOGIE AUDIENCE
By aligning with Bliss Boogie, brands can tap into this socially conscious and close-knit group,  fostering lasting connections and resonating with their values. Marketing to the Bliss Boogie audience means connecting with a passionate and diverse community. From music and art enthusiasts to those embracing personal growth and self-expression, this community values authenticity and sustainability. 
corporate parntership OPPORTUNITIES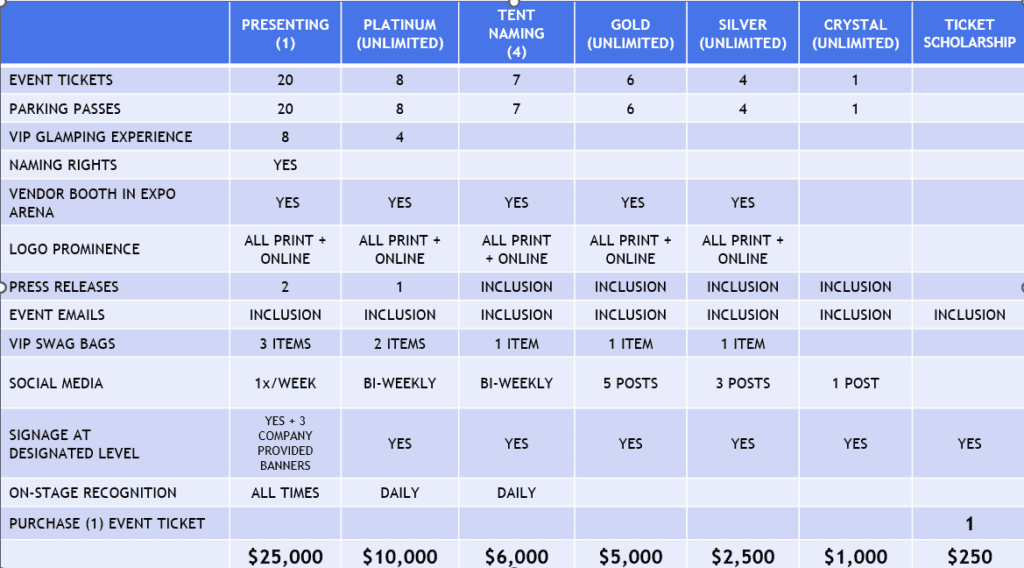 DOWNLOAD THE PARTNERSHIP PROPOSAL
SCHEDULE AN APPOINTMENT
TO BECOME A CORPORATE PARTNER
2024 BLISS BOOGIE CORPORATE PARTNERS