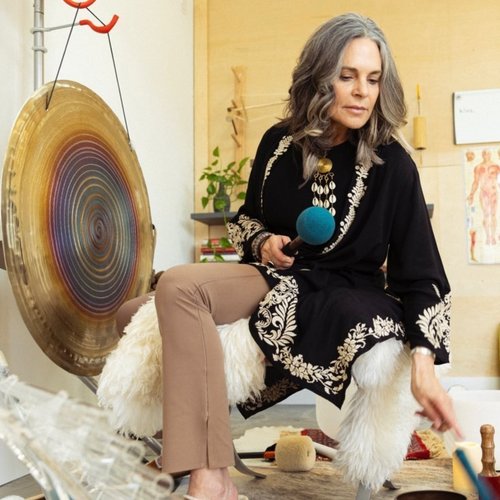 speaker: LeeAnn Anderson

day/time: sunday at 12:30 pm

tent location: dance tent
Sonic Wellness Sound Journey
Embrace your potential to be well. The sounds introduced during a Sound Journey are an invitation into a deeper state of consciousness, an opportunity to unplug from external stimuli and gain perspective on what's happening within you. The goal of the experience is relaxation & self-discovery.
A Sound Journey is a deeply immersive, full-body listening experience. Using sound, we'll activate powerful restoration that nurtures your body & mind.
Allow me to help you reconnect to your vitality & live in a state of balance and well-being.
LeeAnn describes herself as a hummingbird, a collector of life experiences. Her quest for knowledge, skill and wisdom has led her down many roads in the worlds of business, the arts and non-profits, but her constant has always been music.
LeeAnn studied music at Belmont University in Nashville, TN, and explored the study of Sound Engineering while attending Columbia College in Chicago, IL.
She released her first solo album in 2008, "Light as Air", available on Spotify. 
A personal trauma led her to explore music not only as art, but as a powerful source of healing—helping her live a life of joy and open-hearted presence in harmony with the ongoing grief journey of losing a son. 
The essence of being limitless is what sets LeeAnn apart, and what draws humanity to her. She genuinely believes that each and every one of us is capable of living the life they imagine; pain free, with Joy, immersed in a complete love of themselves. LeeAnn considers herself a researcher, studying the way trauma, grief, and how our environment can shift the natural frequency & resonance of our bodies.
Our natural frequency as humans is the frequency of the earth itself, 7.83 Hz.
When we experience trauma or a grief journey, we fall out of tune with that frequency, which can manifest as chronic pain, depression or general dis-ease. A modality first practiced in Ancient Greece, sonic therapy is a noninvasive method of healing, based on bringing us into balance. Once we are in tune, fear, doubt, and suffering fall away, allowing our true selves to emerge with clarity.
In addition to her training as a sound healer she is accomplished in the art of mindfulness, meditation and yoga. She is also a shamanic energy healer in the Peruvian tradition.