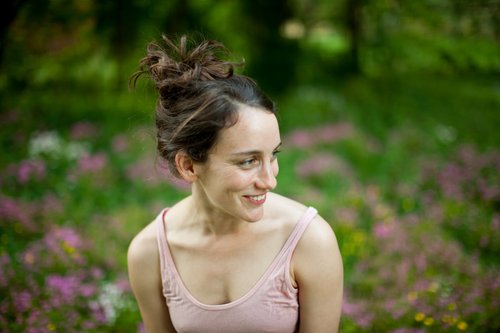 speaker: TONI CRAIGE

day/time: sunday at 8:30 am

tent location: dance tent
Contact Improvisation Basics
Join us for an introduction to the basic principles of Contact Improvisation—an improvisational dance form based on touch and weight sharing, and an ethic of experimentation with both physical forces and relational dynamics.
Following a point of contact and understanding how to move with mutuality and consent are the foundation of the athletic movement and thrilling lifts you see in advanced contact dancers.
We will distill the essentials of the form in a playful, easeful way, appropriate for movers of all abilities! 
Toni is a bodyworker, counselor, dancer, and passionate explorer of embodied healing working in Durham, NC.
She works with clients 1:1 with touch and movement through BODYWORK AND MOVEMENT THERAPY to relieve pain, chronic stress, and trauma. With MENTAL HEALTH COUNSELING and EMBODIED MENTORING, she supports clients in moving past chronic negative patterns and moods and manifest their most authentic desires in life.  As a DANCE TEACHER, she works to build individual and community resilience through group movement classes. Her background as a CHOREOGRAPHER AND PERFORMER infuses all of her work with an appreciation for beauty, imagination, deep feeling, and creativity. Tonicraige.com
Toni has been practicing Contact Improvisation since 2006 and has had a regular teaching practice of the form in the Triangle area since 2012. She completed her Masters of the Fine Arts in Choreography and Performance at Smith College in Northampton, MA in 2020 and her BA in Dance at Wesleyan University in 2009.